Assistance technique IBM Certificat Professionnel
Launch your rewarding new career in tech. This program will prepare you with job-ready skills valued by employers in as little as 3 months. No degree or prior experience needed to get started.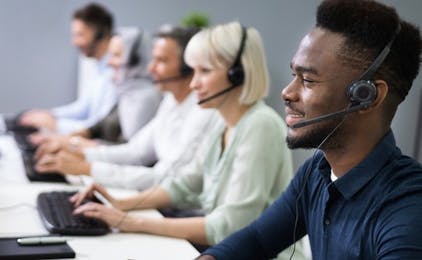 583 évaluations
13,754 étudiants déjà inscrits
2 mois
Moins de 10 heures d'étude par semaine
Niveau débutant
Aucune connaissance prérequise.
Totalement à votre rythme
Apprenez à votre propre rythme
Développez des compétences professionnelles en apprenant auprès des meilleurs
Démarrez dans le domaine convoité de l'assistance technique en informatique grâce à un Certificat Professionnel d'IBM. Apprenez les bases de l'assistance informatique, développez également des connaissances pratiques sur les systèmes d'exploitation, le réseautage, la cybersécurité, le cloud computing, en offrant une assistance client du début à la fin.
Intitulés de poste courants : Administrateur(trice) de base de données, spécialiste informatique, spécialiste du support technique, analyste de systèmes, ingénieur(e) réseau, technicien(ne) du centre d'assistance, spécialiste du support informatique, technicien(ne) informatique, spécialiste utilisateur en informatique, assistant(e) informatique
¹Burning Glass Labor Insight Report data (median with 0-5 years experience), United States, 4/1/21-3/31/22.
52 000 $
salaire médian d'un débutant¹
400 000
postes vacants recherchés en informatique¹
¹Burning Glass Labor Insight Report data (median with 0-5 years experience), United States, 4/1/21-3/31/22.
Compétences que vous acquerrez
Networking/Cybersecurity Essentials

IT Fundamentals

Hardware/Software Setup

Technical Support

Cloud Computing

Information Technology

Customer Service

Ticketing Systems

Service Level Agreements

IT Service Management (ITSM)

Troubleshooting

IT Career
À propos de ce Certificat Professionnel
Ce que vous allez apprendre
Develop key knowledge and up-to-date skills for a rewarding career in IT and Technical Support

Learn in-demand hardware and software skills that help users select, install and configure their devices, operating systems and applications

Build essential computer networking, cybersecurity, and cloud computing skills that IT Support and Helpdesk specialists need to be successful

Practice customer service and troubleshooting skills through hands-on labs, demos and interactive exercises to become job-ready
Qu'est-ce qu'un Certificat Professionnel ?
Développez vos compétences pour être prêt(e) à travailler dans ce domaine
Que vous souhaitiez commencer une nouvelle carrière ou en changer, les Certificats Professionnels de Coursera vous aident à vous préparer pour un emploi. Apprenez à votre propre rythme, quand et où cela vous convient le mieux. Inscrivez-vous aujourd'hui et explorez un nouveau parcours professionnel avec un essai gratuit de 7 jours. Vous pouvez suspendre votre formation ou résilier votre abonnement à tout moment.
Projets pratiques
Exercez vos compétences avec des projets pratiques et renforcez les compétences qui montrent votre aptitude au travail à de potentiels employeurs. Vous devez réussir le(s) projet(s) pour obtenir votre Certificat.
Obtenez une qualification professionnelle
Lorsque vous aurez terminé tous les cours du programme, vous obtiendrez un Certificat à partager avec votre réseau professionnel et vous débloquerez l'accès à des ressources d'accompagnement professionnel pour vous aider à démarrer votre nouvelle carrière. De nombreux Certificats Professionnels ont des partenaires d'embauche qui reconnaissent les qualifications du Certificat Professionnel, et d'autres peuvent vous aider à vous préparer à un examen de certification. Le cas échéant, vous trouverez plus d'informations sur les pages des Certificats Professionnels. Foire Aux Questions
Quelle est la politique de remboursement ?

Puis-je m'inscrire à un seul cours ?

Ce cours est-il vraiment accessible en ligne à 100 % ? Dois-je assister à certaines activités en personne ?

What background knowledge is necessary?

What jobs does this certificate prepare me for?

What makes this program different?

Can I enroll in just one course?

How much time does this program take?

Do I have to take the courses in order?

What kinds of companies hire for IT support?

What job hunting assistance is available?

What kind of a background do I need? Do I need a tech background to start?

How long do I have to finish?
D'autres questions ? Visitez le Centre d'Aide pour les Étudiants.