Analyse des données IBM avec Excel et R Certificat Professionnel
Kickstart Your Data Analytics Career w/ Excel & R. Master the data analysis and visualization tools to transform data into information and insights.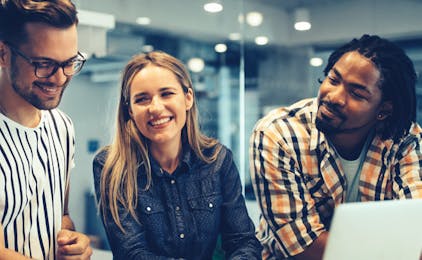 1,209 évaluations
7,021 étudiants déjà inscrits
11 mois
Moins de 3 heures d'étude par semaine
Niveau débutant
Aucune connaissance prérequise.
Totalement à votre rythme
Apprenez à votre propre rythme
Développez des compétences professionnelles en apprenant auprès des meilleurs
Lancez-vous dans le domaine convoité de l'analyse de données avec un Certificat Professionnel d'IBM. Apprenez les principes de base de l'analyse de données et acquérez de l'expérience en matière de manipulation de données en utilisant la programmation en R et Excel, en appliquant des techniques d'analyse et en travaillant avec différentes sources de données.
Intitulés de poste courants : Analyste de données, scientifique des données junior, analyste de données associé(e), analyste de données junior, technicien(ne) des données, analyste des performances commerciales, analyste marketing
¹Rapport de Lightcast™ sur les offres d'emploi (médiane avec 0-2 ans d'expérience), États-Unis, 01/09/2021-01/09/2022.
67 500 $
salaire médian d'un débutant¹
123 321
postes vacants recherchés en analyse des données¹
¹Rapport de Lightcast™ sur les offres d'emploi (médiane avec 0-2 ans d'expérience), États-Unis, 01/09/2021-01/09/2022.
Compétences que vous acquerrez
Microsoft Excel

Relational Databases (RDBMS)

R Programming

Data Analysis

Data Visualization (DataViz)

Data Science

Spreadsheet

Pivot Table

IBM Cognos Analytics

Dashboard

Select (Sql)

Statistical Analysis
À propos de ce Certificat Professionnel
Ce que vous allez apprendre
Utilize Excel spreadsheets to perform a variety of data analysis tasks like data wrangling, using pivot tables, data mining, & creating charts

Complete the data analysis process, including data preparation, statistical analysis, predictive modeling, using R, R Studio, and Jupyter

Create relational databases and tables, query data, sort, filter and aggregate result sets using SQL and R from JupyterLab

Communicate your data findings using various data visualization techniques including, charts, plots & interactive dashboards with Cognos and R Shiny
Qu'est-ce qu'un Certificat Professionnel ?
Développez vos compétences pour être prêt(e) à travailler dans ce domaine
Que vous souhaitiez commencer une nouvelle carrière ou en changer, les Certificats Professionnels de Coursera vous aident à vous préparer pour un emploi. Apprenez à votre propre rythme, quand et où cela vous convient le mieux. Inscrivez-vous aujourd'hui et explorez un nouveau parcours professionnel avec un essai gratuit de 7 jours. Vous pouvez suspendre votre formation ou résilier votre abonnement à tout moment.
Projets pratiques
Exercez vos compétences avec des projets pratiques et renforcez les compétences qui montrent votre aptitude au travail à de potentiels employeurs. Vous devez réussir le(s) projet(s) pour obtenir votre Certificat.
Obtenez une qualification professionnelle
Lorsque vous aurez terminé tous les cours du programme, vous obtiendrez un Certificat à partager avec votre réseau professionnel et vous débloquerez l'accès à des ressources d'accompagnement professionnel pour vous aider à démarrer votre nouvelle carrière. De nombreux Certificats Professionnels ont des partenaires d'embauche qui reconnaissent les qualifications du Certificat Professionnel, et d'autres peuvent vous aider à vous préparer à un examen de certification. Le cas échéant, vous trouverez plus d'informations sur les pages des Certificats Professionnels. Foire Aux Questions
Quelle est la politique de remboursement ?

Puis-je m'inscrire à un seul cours ?

Ce cours est-il vraiment accessible en ligne à 100 % ? Dois-je assister à certaines activités en personne ?

How long does it take to complete the Professional Certificate?

What background knowledge is necessary?

Do I need to take the courses in a specific order?

What will I be able to do upon completing the Professional Certificate?

How is this Professional Certificate different from the IBM Data Analyst Professional Certificate?

Can I get college credit for taking the IBM Data Analytics with Excel and R Professional Certificate?

How do you share your proof of completion with the educational institutions for transferring credit?

Where can I find more information on ACE credit recommendations?
D'autres questions ? Visitez le Centre d'Aide pour les Étudiants.