Développeur front-end Meta Certificat Professionnel
Launch your career as a front-end developer. Build job-ready skills for an in-demand career and earn a credential from Meta. No degree or prior experience required to get started.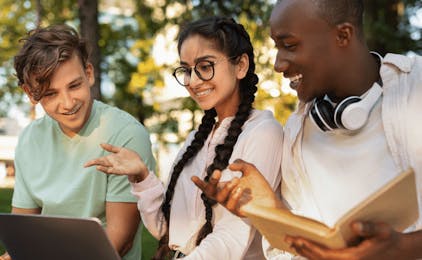 5,332 évaluations
89,810 étudiants déjà inscrits
7 mois
Moins de 6 heures d'étude par semaine
Niveau débutant
Aucune connaissance prérequise.
Totalement à votre rythme
Apprenez à votre propre rythme
Développez des compétences professionnelles en apprenant auprès des meilleurs
Démarrez dans le domaine convoité du développement de logiciels grâce à un Certificat Professionnel de Meta. Découvrez les bases du développement front-end et acquérez des compétences de programmation recherchées en développant une application Web front-end pour votre portfolio.
Intitulés de poste courants : Développeur(euse) front-end, développeur(euse) de site Web, développeur(euse) full stack, ingénieur(e) front-end, ingénieur(e) logiciel
¹Rapport de Lightcast™ sur les offres d'emploi (médiane avec 0-2 ans d'expérience), États-Unis, 01/09/2021-01/09/2022.
100 200 $
salaire médian d'un débutant¹
45 902
postes vacants recherchés en développement front-end¹
plus de 200
Entrez en contact avec plus de 200 employeurs américains une fois le certificat terminé
¹Rapport de Lightcast™ sur les offres d'emploi (médiane avec 0-2 ans d'expérience), États-Unis, 01/09/2021-01/09/2022.
Compétences que vous acquerrez
Cascading Style Sheets (CSS)

HTML

UI/UX design

React

JavaScript

Web Development Tools

User Interface

Front-End Web Development

HTML and CSS

Responsive Web Design

Test-Driven Development

Object-Oriented Programming (OOP)
À propos de ce Certificat Professionnel
Ce que vous allez apprendre
Create a responsive website using HTML to structure content, CSS to handle visual style, and JavaScript to develop interactive experiences. 

Learn to use React in relation to Javascript libraries and frameworks.

Learn Bootstrap CSS Framework to create webpages and work with GitHub repositories and version control.

Prepare for a coding interview, learn best approaches to problem-solving, and build portfolio-ready projects you can share during job interviews.
Qu'est-ce qu'un Certificat Professionnel ?
Développez vos compétences pour être prêt(e) à travailler dans ce domaine
Que vous souhaitiez commencer une nouvelle carrière ou en changer, les Certificats Professionnels de Coursera vous aident à vous préparer pour un emploi. Apprenez à votre propre rythme, quand et où cela vous convient le mieux. Inscrivez-vous aujourd'hui et explorez un nouveau parcours professionnel avec un essai gratuit de 7 jours. Vous pouvez suspendre votre formation ou résilier votre abonnement à tout moment.
Projets pratiques
Exercez vos compétences avec des projets pratiques et renforcez les compétences qui montrent votre aptitude au travail à de potentiels employeurs. Vous devez réussir le(s) projet(s) pour obtenir votre Certificat.
Obtenez une qualification professionnelle
Lorsque vous aurez terminé tous les cours du programme, vous obtiendrez un Certificat à partager avec votre réseau professionnel et vous débloquerez l'accès à des ressources d'accompagnement professionnel pour vous aider à démarrer votre nouvelle carrière. De nombreux Certificats Professionnels ont des partenaires d'embauche qui reconnaissent les qualifications du Certificat Professionnel, et d'autres peuvent vous aider à vous préparer à un examen de certification. Le cas échéant, vous trouverez plus d'informations sur les pages des Certificats Professionnels. Foire Aux Questions
Quelle est la politique de remboursement ?

Puis-je m'inscrire à un seul cours ?

Ce cours est-il vraiment accessible en ligne à 100 % ? Dois-je assister à certaines activités en personne ?

What does a front-end developer do?

What type of companies hire front-end developers?

What jobs will this prepare me for?

What is the difference between front-end and back-end developers?

Why start a career in front-end development?

Why should I earn a Meta developer certificate?

What resources will be available to help me with my job search?

Why did Meta create this program?

What is the Meta Career Programs Job Board?

Quelle est la durée nécessaire pour terminer la Spécialisation ?

What background knowledge is necessary?

Do I need a certain device to take this course?

Do I need to take the courses in a specific order?

Puis-je obtenir des crédits universitaires si je réussis la Spécialisation ?
D'autres questions ? Visitez le Centre d'Aide pour les Étudiants.