Ingénierie des données IBM Certificat Professionnel
Launch your new career in Data Engineering. Master SQL, RDBMS, ETL, Data Warehousing, NoSQL, Big Data and Spark with hands-on job-ready skills.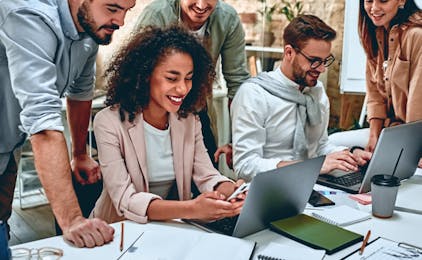 1,923 évaluations
25,310 étudiants déjà inscrits
15 mois
Moins de 4 heures d'étude par semaine
Anglais
Sous-titres : Anglais, Coréen, Arabe, Persan
Niveau débutant
Aucune connaissance prérequise.
Totalement à votre rythme
Apprenez à votre propre rythme
Développez des compétences professionnelles en apprenant auprès des meilleurs
Accédez rapidement à une carrière d'ingénieur des données avec un Certificat Professionnel d'IBM. Apprenez les compétences nécessaires pour concevoir, déployer et gérer des données structurées et non structurées et développez votre expérience sur des outils indispensables grâce à des projets pratiques.
Intitulés de poste courants : Ingénieur de données junior, ingénieur de données
¹Données du rapport Burning Glass Labor Insight (médiane avec 0-2 ans d'expérience), 01/04/21-31/03/22.
101 100 $
salaire médian d'un débutant¹
52 659
postes vacants recherchés en ingénierie des données¹
¹Données du rapport Burning Glass Labor Insight (médiane avec 0-2 ans d'expérience), 01/04/21-31/03/22.
Compétences que vous acquerrez
Relational Database Management Syste (RDBMS)

ETL & Data Pipelines

NoSQL and Big Data

Apache Spark

SQL

Data Science

Database (DBMS)

NoSQL

Python Programming

Data Analysis

Pandas

Numpy
À propos de ce Certificat Professionnel
This Professional Certificate is for anyone who wants to develop job-ready skills, tools, and a portfolio for an entry-level data engineer position. Throughout the self-paced online courses, you will immerse yourself in the role of a data engineer and acquire the essential skills you need to work with a range of tools and databases to design, deploy, and manage structured and unstructured data.
By the end of this Professional Certificate, you will be able to explain and perform the key tasks required in a data engineering role. You will use the Python programming language and Linux/UNIX shell scripts to extract, transform and load (ETL) data. You will work with Relational Databases (RDBMS) and query data using SQL statements. You will use NoSQL databases and unstructured data. You will be introduced to Big Data and work with Big Data engines like Hadoop and Spark. You will gain experience with creating Data Warehouses and utilize Business Intelligence tools to analyze and extract insights.
This program does not require any prior data engineering, or programming experience.
This program is ACE® recommended—when you complete, you can earn up to 12 college credits.
Ce que vous allez apprendre
Create, design, and manage relational databases and apply database administration (DBA) concepts to RDBMSes such as MySQL, PostgreSQL, and IBM Db2.

Develop and execute SQL queries using SELECT, INSERT, UPDATE, DELETE statements, database functions, stored procedures, Nested Queries, and JOINs.

Demonstrate working knowledge of NoSQL & Big Data using MongoDB, Cassandra, Cloudant, Hadoop, Apache Spark, Spark SQL, Spark ML, Spark Streaming.

Implement ETL & Data Pipelines with Bash, Airflow & Kafka; architect, populate, deploy Data Warehouses; create BI reports & interactive dashboards.​
Qu'est-ce qu'un Certificat Professionnel ?
Développez vos compétences pour être prêt(e) à travailler dans ce domaine
Que vous souhaitiez commencer une nouvelle carrière ou en changer, les Certificats Professionnels de Coursera vous aident à vous préparer pour un emploi. Apprenez à votre propre rythme, quand et où cela vous convient le mieux. Inscrivez-vous aujourd'hui et explorez un nouveau parcours professionnel avec un essai gratuit de 7 jours. Vous pouvez suspendre votre formation ou résilier votre abonnement à tout moment.
Projets pratiques
Exercez vos compétences avec des projets pratiques et renforcez les compétences qui montrent votre aptitude au travail à de potentiels employeurs. Vous devez réussir le(s) projet(s) pour obtenir votre Certificat.
Obtenez une qualification professionnelle
Lorsque vous aurez terminé tous les cours du programme, vous obtiendrez un Certificat à partager avec votre réseau professionnel et vous débloquerez l'accès à des ressources d'accompagnement professionnel pour vous aider à démarrer votre nouvelle carrière. De nombreux Certificats Professionnels ont des partenaires d'embauche qui reconnaissent les qualifications du Certificat Professionnel, et d'autres peuvent vous aider à vous préparer à un examen de certification. Le cas échéant, vous trouverez plus d'informations sur les pages des Certificats Professionnels. Offert par

Réseau de compétences IBM
IBM is the global leader in business transformation through an open hybrid cloud platform and AI, serving clients in more than 170 countries around the world. Today 47 of the Fortune 50 Companies rely on the IBM Cloud to run their business, and IBM Watson enterprise AI is hard at work in more than 30,000 engagements. IBM is also one of the world's most vital corporate research organizations, with 28 consecutive years of patent leadership. Above all, guided by principles for trust and transparency and support for a more inclusive society, IBM is committed to being a responsible technology innovator and a force for good in the world.
Foire Aux Questions
Quelle est la politique de remboursement ?

Puis-je m'inscrire à un seul cours ?

Ce cours est-il vraiment accessible en ligne à 100 % ? Dois-je assister à certaines activités en personne ?

Quelle est la durée nécessaire pour terminer la Spécialisation ?

What background knowledge is necessary?

Do I need to take the courses in a specific order?

What will I be able to do upon completing the Specialization?

Can I get college credit for taking the IBM Data Engineering Professional Certificate?

How do you share your proof of completion with the educational institutions for transferring credit?

Where can I find more information on ACE credit recommendations?
D'autres questions ? Visitez le Centre d'Aide pour les Étudiants.